Apple's 2020 iPhone Lineup
We're many months away from the launch of the 2020 iPhones, which are expected in September 2020, but there are already multiple rumors about the upcoming devices. We're expecting the 2020 iPhones to be called the iPhone 12 and iPhone 12 Pro if Apple follows the same naming scheme it used for the 2019 iPhone lineup.
The 2020 iPhones will feature major updates, introducing some of the first design changes that we've seen since the iPhone X was released in 2017. We're expecting four iPhones in three display sizes which could come in at 5.4, 6.7, and 6.1 inches (x2).
Rumors suggest the 6.7-inch iPhone and one 6.1-inch model will be higher-end OLED devices with triple-lens cameras, while the 5.4 and 6.1-inch models will be lower-end iPhones with dual-lens cameras and a more affordable price tag. All iPhones in 2020 are expected to feature OLED displays regardless of price.
At a rumored 5.4 inches, the 2020 iPhone 12 would be the smallest iPhone Apple has released since the 4.7-inch iPhone 8. At 6.7 inches, the 2020 iPhone 12 Pro will be Apple's largest iPhone to date.
Design wise, rumors suggest at least one of the new iPhones will feature a significant redesign with a metal frame that's similar to the frame of the iPhone 4. The iPhone 4 had a distinctive, flat look for its stainless steel frame, which could be replicated in the new iPhones. At least two of the iPhones are expected to feature this new design.
There could be a new TrueDepth camera system that cuts down on the size of the notch on the front, and there are rumors of a 3D triple-lens rear camera system that uses a laser to calculate depth information for objects in the room, improving both photography and AR capabilities. This is likely to be similar to the LiDAR Scanner in the 2020 iPad Pro.
2020 will be the first year that Apple introduces 5G support in the iPhone, allowing the new devices to connect to 5G networks that are much faster than 4G LTE networks.
Prospective Name
Apple's iPhone naming plans have been confusing ever since the iPhone 8 debuted alongside the iPhone X in 2017, skipping the iPhone 9 entirely. Apple continued on with the confusing naming scheme in 2018 with the iPhone XS, XS Max, and XR, but things became clearer in 2019 with the iPhone 11, iPhone 11 Pro, and 11 Pro Max.
Apple previously did a numerical increase and then an "S" year, but because the changes expected in 2020 are so significant, it's unlikely that we're going to get an iPhone 11S or similar, and much more likely that we're going to see an iPhone 12.
If the lower-end followup to the iPhone 11 is named the iPhone 12 (which is what we'll be calling it), then we can expect the two higher-end devices that are coming in 2020 to be the iPhone 12 Pro and the iPhone 12 Pro Max. Below are the names that Apple has used since the iPhone first launched in 2007:
2007 – iPhone
2008 – iPhone 3G
2009 – iPhone 3GS
2010 – iPhone 4 (new design)
2011 – iPhone 4s
2012 – iPhone 5 (new design)
2013 – iPhone 5s and iPhone 5c
2014 – iPhone 6 and iPhone 6 Plus (new design)
2015 – iPhone 6s and iPhone 6s Plus
2016 – iPhone 7 and iPhone 7 Plus
2017 – iPhone 8, iPhone 8 Plus, and iPhone X (new design)
2018 – iPhone XR, iPhone XS, and iPhone XS Max
2019 – iPhone 11, iPhone 11 Pro, and iPhone 11 Pro Max
Of course, until the new devices are released, there's no confirmation that these new devices are set to be called the iPhone 12, 12 Pro, and 12 Pro Max, but it's the guess that makes the most sense at this time.
Size Options
Rumors suggest Apple will offer four iPhones in three different sizes, but the sizes are said to be changing in 2020.
So far, rumors indicate we'll see a 5.4-inch iPhone, a 6.7-inch iPhone, and two 6.1-inch iPhones. 5.4 inches is smaller than the current iPhone 11 Pro, while 6.7 inches is bigger than the current iPhone 11 Pro Max. Rumors suggest the 5.4-inch device will be close to identical in size to the iPhone 8.
One 6.1-inch model and the 6.7-inch model will be higher-end iPhones, while the other 6.1-inch iPhone and the 5.4-inch iPhone will be lower-end models and successors to the iPhone 11. The higher-end iPhones will feature newer camera systems with triple-lens setups, while the lower-end iPhones will feature dual-lens camera setups.
Design
The 2020 iPhones will feature an overhauled design with a metal frame that's similar to the frame of the iPhone 4. Apple analyst Ming-Chi Kuo says that the new iPhones will use a more complex segmentation design, and new trenching and injection molding procedures.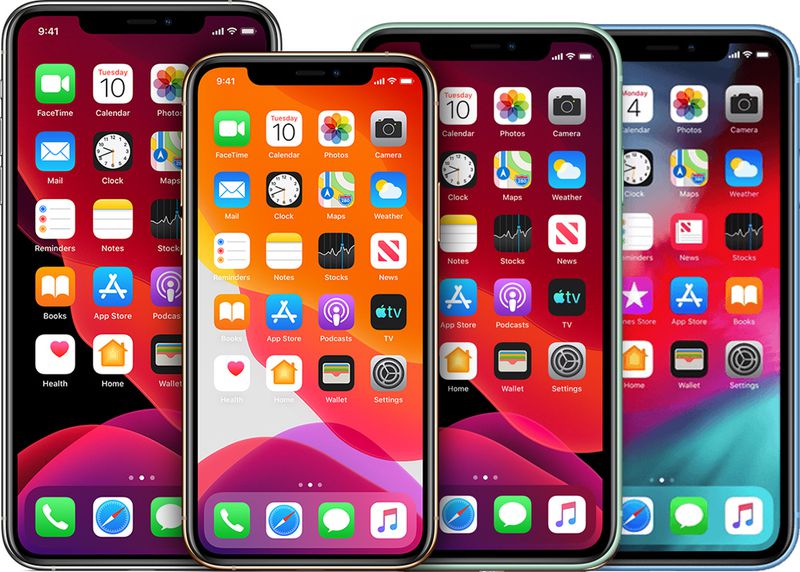 The overall design, though, will resemble the iPhone 4 with a squared-edged stainless steel frame between two pieces of glass. The new iPhone will feature a stainless steel frame, which will replace the current rounded stainless steel frame, and it will continue to use front and back glass for the body of the device.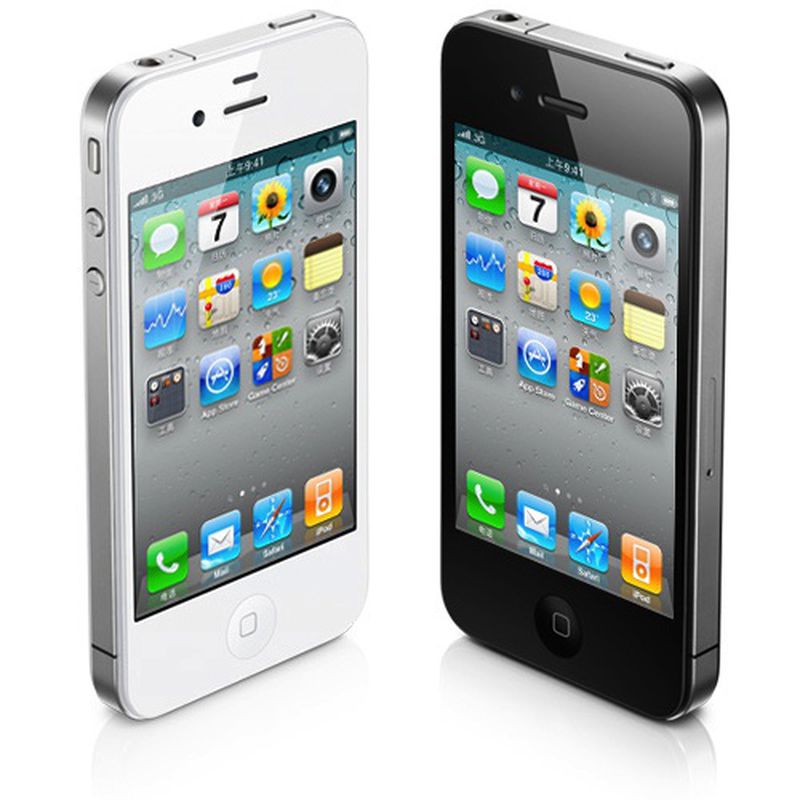 The grooving and injection molding of the metal in the frame is said to reduce the negative impact of metal shielding on the high-frequency transmission efficiency of the internal antenna. Kuo believes Apple will use sapphire or tempered glass to protect the grooves in the frame. Slightly wider antenna lines are a possibility according to one rumor, though that has yet to be backed up by a reliable source.
According to
Bloomberg
, at least two of the high-end iPhones Apple plans to offer in 2020 will have the new design with flat, stainless steel edges instead of curved edges, reminiscent of the design of the iPad Pro.
According to Japanese site Mac Otakara, the 6.7-inch iPhone will have a thickness of 7.4mm, which would be quite a bit thinner than the 8.1mm thick iPhone 11 Pro Max. It's also expected to be slightly taller than the 11 Pro Max. The 5.4-inch iPhone's height is expected to be somewhere between the height of the iPhone SE and the iPhone 8. The 5.4, 6.7, and at least one 6.1-inch iPhone are expected to have different numbers of microphone holes along the bottom.
Colors
One rumor suggests that at least one of the iPhone 12 models could come with a new navy blue finish. Apple introduced a new midnight green color with the iPhone 11 Pro lineup, so it's not unreasonable to think there could be a new blue color in the works as well.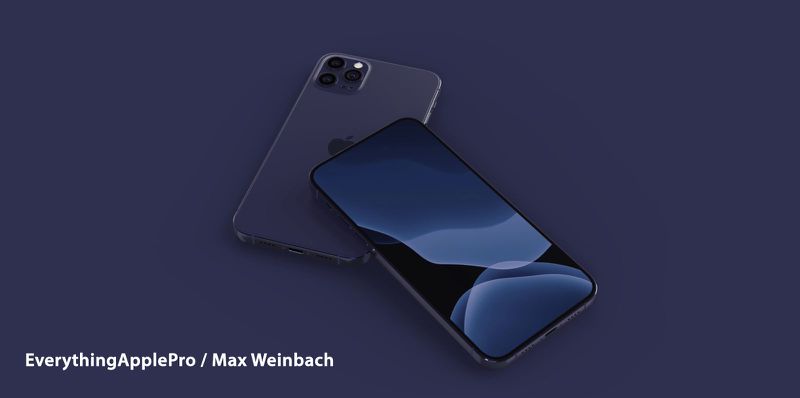 Leaked Images
Leaked images said to depict the iPhone 12 picture a notch that is approximately 1/3 smaller than the current notch, which is in line with rumors that have suggested the notch in the 2020 iPhones could be smaller.
There's no clear word on where these images came from, nor if they're accurate, but it appears they could be from some kind of support documentation. The rear camera array is also pictured with a triple-lens camera and 3D sensor, as has been rumored.
Display
Though Apple is expected to continue offering both higher-end (aka more expensive) iPhones and lower-end (more affordable) iPhones in 2020, all of the devices may come equipped with OLED displays this year, with Apple doing away with LCDs for its iPhone lineup.
Apple's use of OLED across the iPhone lineup will allow for "more flexible handset design." Apple is testing OLED displays from Chinese company BOE Display, which makes LCDs for Apple's iPads and MacBooks. Apple has been using Samsung OLED displays in recent OLED iPhones and is expected to continue doing so.
The new iPhones coming in 2020 are expected to adopt a Samsung technology called Y-OCTA, that allows touchscreen circuitry to be directly patterned on the OLED panel without the need for a separate layer, resulting in a thinner display and lower production costs, though it's not clear if this translates to a thinner body design.
Future iPhones could adopt the Apple Watch's low-power LTPO display technology. LTPO, or low-temperature polycrystalline oxide, has an Oxide TFT structure that uses up to 15 percent less power than LTPS, or low-temperature polysilicon, the backplane technology that Apple currently uses. It's not entirely clear if Apple will adopt this technology for the iPhone 12 or a future iPhone.
Some of the iPhones coming in 2020 are also rumored to include touch-integrated displays supplied by LG, with LG also planning to switch to LTPO backplane technology in the second half of 2020, perhaps supplying more power efficient displays for some 2020 iPhones if the displays are ready in time.
ProMotion Technology
Rumors from notable Samsung leaker "Ice Universe" on Twitter have suggested iPhones coming in 2020 could feature a switchable 60Hz/120Hz refresh rate. Apple already uses ProMotion technology in the iPad Pro, so it's not too farfetched to believe the technology could be extended to the iPhone in the future.
The iPad Pro models do, however, use LCD displays and not OLED displays like the flagship iPhone models.
A14 Chip
Rumors suggest TSMC will manufacture the 5-nanometer chips Apple will use in its 2020 iPhone lineup. The 5-nanometer process will produce chips that are smaller, faster, and more battery efficient due to improved thermal management.
TSMC is on track to begin volume production of its 5-nanometer A14 chips designed for the iPhone starting in April.
The A14 chip will focus on speeding up artificial intelligence and AR tasks, according to Bloomberg.
RAM
Barclays analyst Blayne Curtis believes the iPhone 12 Pro models will feature 6GB RAM, while the iPhone 12 will have 4GB RAM.
UBS analysts also believe the four iPhones in development will feature varying amounts of RAM. They're expecting a 6.7-inch iPhone with 6GB RAM, a 6.1-inch iPhone with 6GB RAM, a 6.1-inch iPhone with 4GB RAM, and a 5.4-inch iPhone with 4GB RAM.
Battery
The iPhones coming in 2020 could have some small gains in battery capacity as Apple suppliers are working on a custom battery protection module that's 50 percent smaller and thinner than the same component in previous iPhones. That could free up valuable space in the iPhone.
Rear Cameras
Apple made major changes to the rear camera system in the 2019 iPhone lineup with the new triple-lens setup of the iPhone 11 Pro and Pro Max, and 2020 may bring even more camera improvements.
Rumors suggest some of the new iPhone models coming in 2020 will feature a 3D camera, which sounds like the LiDAR Scanner feature that Apple added in the 2020 iPad Pro models.
The LiDAR sensor and dual-lens camera in the 2020 iPad Pro
The LiDAR Scanner in the iPad Pro uses reflected light to measure the distance from the sensor to surrounding objects that are up to five meters away, which is equivalent to 16.4 feet. It works indoors and outdoors, and is essentially able to map the environment around you at the photon level at nano-second speeds.
Depth frameworks in iPadOS combine depth points measured by the LiDAR Scanner, data from cameras, and data from motion sensors to create a more detailed and complete understanding of a scene for improved augmented reality capabilities. The rumored 3D camera in the iPhone is likely to work similarly, if not identically.
Apple is said to be using VCSEL lasers from San Jose-based company Lumentum to provide the 3D depth sensor that is expected to be included in at least one of the iPhone models coming in 2020. Apple has used VCSELs or vertical-cavity surface-emitting lasers since 2017 for the TrueDepth front-facing camera, but the VCSEL lasers set to be used for the time-of-flight camera are more advanced.
So far, rumors indicate the two higher-end iPhones coming in 2020 will use the new time-of-flight rear camera, so it may not be available in the lower-end iPhones that are going to have a lower price tag.
The high-end6.7-inch iPhone in 2020 is rumored to be getting sensor-shift image stabilization technology, which could potentially bring image stabilization to the ultra wide-angle lens on those devices. Sensor-shift technology allows the optical image stabilization to be applied to the camera sensor, rather than the individual lenses.
As with the 2019 iPhone lineup, the 2020 iPhones are expected to have different camera technology. UBS analysts believe Apple is working on high-end 6.7 and 6.1-inch iPhones with triple-lens cameras, while lower-end 5.4 and 6.1-inch iPhones could feature dual-lens cameras.
Japanese site Mac Otakara also believes the 5.4 and lower-end 6.1-inch iPhones will feature dual-lens camera setups, while the 6.7-inch iPhone will feature a triple-lens camera array with larger sensors than the 11 Pro Max.
TrueDepth Camera System
Apple analyst Ming-Chi Kuo and Bloomberg believe that at least one new iPhone in 2020 will feature a smaller front camera lens for an improved screen to bezel ratio, ultimately resulting in a smaller notch at the front.
Barclays analysts believe the iPhone 12 will feature a "refreshed" TrueDepth camera system, though there are no details from Barclays on what might be improved.
An analyst from Credit Suisse has said that Apple will introduce at least one new iPhone with no notch or Face ID in 2020, relying instead on an under-display fingerprint sensor, though that technology may still be a few years off. Bloomberg has suggested the notch could be eliminated entirely in future iPhones, but the it is expected to be present in 2020 iPhones.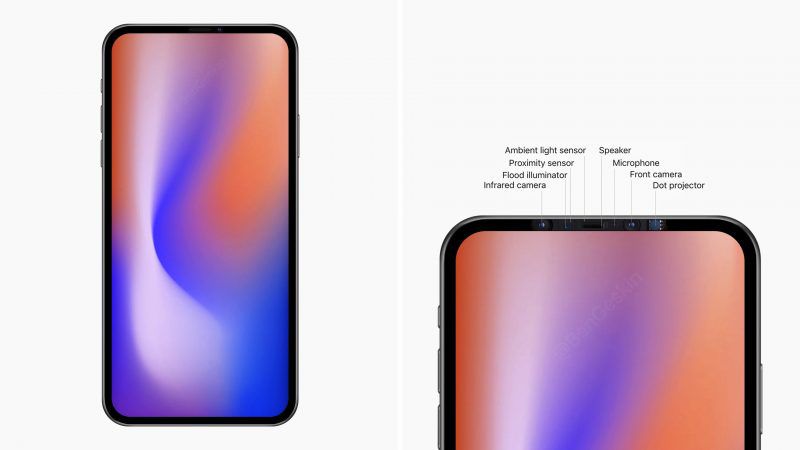 Apple supplier AMS has announced new camera sensor technology that allows the RBG light and the IR proximity sensor used for the front-facing TrueDepth camera system to be embedded under an OLED display. Apple could potentially be planning to introduce the new sensor tech in its 2020 iPhones, and this would allow Apple to create an iPhone with a smaller Face ID notch.
Touch ID?
Though not echoed by other rumors, Taiwanese site Economic Daily News believes that at least one of the iPhones coming in 2020 will use an ultrasonic fingerprint sensor manufactured by Qualcomm.
We've heard ultrasonic fingerprint sensor rumors before, but most rumors have suggested that Apple is targeting a 2021 launch date for the technology. Qualcomm in late 2019 unveiled a 30x20mm in-display fingerprint sensor for smartphones that Apple could take advantage of.
Barclays analysts have also suggested 2020 iPhone models could use acoustic fingerprint technology, and Chinese site The Global Times has suggested Apple will release a notchless phone with an under-display fingerprint sensor aimed at the Chinese market.
Kuo believes Apple is working on an iPhone with both Face ID and an on-display fingerprint sensor for launch in 2021 rather than 2020.
A future iPhone will include both Face ID and an under-display fingerprint sensor, according to a 2019 report from Bloomberg. The technology could be introduced as soon as 2020, but may not be ready until 2021.
5G Connectivity
In 2020, Apple plans to transition back to Qualcomm modem chips instead of Intel chips, using Qualcomm's 5G technology in its iPhones. Qualcomm and Apple were previously embroiled in a bitter legal battle, but managed to settle their disagreements in April of 2019.
All of the iPhones expected in 2020 will use 5G technology, according to Apple analyst Ming-Chi Kuo. All four iPhones will feature Qualcomm's X55 5G modem chip.
The X55 chip offers 7Gb/s peak download speeds and 3Gb/s upload speeds, though these numbers are theoretical maximums and actual speeds will depend on carrier network. The chip is Qualcomm's first 5G chip that supports all major frequency bands, operation modes, and network deployments.
There are two kinds of 5G networks — mmWave (faster and limited in range) and sub-6GHz (slower but wider spread) and there could be some differences in which countries support which specifications. mmWave 5G technology will likely be limited to major cities and dense urban areas because of its short range, while 5G networks in rural and suburban areas will use the slower sub-6GHz technology
Kuo believes iPhone models with mmWave and sub-6GHz support will be available in main markets like the U.S., UK, Australia, Canada, and Japan, while in some other countries, Apple may offer iPhones with just sub-6GHz connectivity. sub-6GHz could also be disabled in countries that do not offer 5G or have shallow 5G penetration.
5G technology is still in the early stages of rolling out, but by the time Apple releases its new iPhones, the major carriers in the United States will have laid the groundwork for connectivity in most areas. For more on 5G technology and what we can expect when Apple rolls out its 2020 devices, make sure to check out our 5G iPhone guide.
Apple and Qualcomm are working together to get Qualcomm's 5G technology into an iPhone as quickly as possible, with the two companies behind as their dispute was only settled in April 2019. Apple usually secures finalized modem hardware 18 months before the launch of a new iPhone.
Apple may be planning to use Qualcomm's modems but not Qualcomm's RF front-end components due to time constraints, which could potentially impact maximum wireless speeds, though we'll need to see how Apple's implementation plays out to know for sure.
Antenna
Apple is using Qualcomm's X55 5G modem chip in its 5G iPhones, but Apple is planning to design the antenna module that will accompany the chip itself. Apple reportedly "balked" at the design of Qualcomm's antenna because it "doesn't fit into the sleek industrial design Apple wants for the new phone."
Apple is now working on its own antenna module, but there's a chance that Qualcomm's could also be used should Apple's in-house work on the antenna not pan out.
WiFi
Apple's 2020 iPhones could instead support a new Wi-Fi standard known as IEEE 802.11ay, a followup to 802.11ad, which quadruples the bandwidth and adds up to four streams of multiple transmission/reception. The WiFi spec uses the 60GHz spectrum and is expected to be finalized by the end of 2020.
Release Date
Bloomberg believes that at least some of the new iPhones could be released "multiple weeks later than normal," though still within the typical fall window. Apple has not informed suppliers of significant delays, and engineers are expected to travel to China to finalize product designs in May.
Apple in February stopped sending engineers to China for Engineering Validation Testing or the EVT stage of iPhone 12 development, which could delay production on the new 2020 iPhones, and is now conducting all of these meetings over video calls. There have been multiple mixed rumors about delays.
A March report from Japanese site Nikkei said that Apple was considering pushing back the launch of its 2020 iPhones by several months, but information from Bloomberg continues to suggest that the iPhone 12 models are still on course for a fall launch, but future products could see some delays.
Analyst Jeff Pu believes Apple's development schedule will likely be pushed out slightly, which could result in delayed availability of the highest-end 6.7-inch iPhone model. The 5.4 and two 6.1-inch iPhone models could be available in September, followed by the 6.7-inch iPhone in October.
What's Coming in the Future
Apple designers are said to ultimately be aiming to remove most of the external ports and buttons on the iPhone for a clean, streamlined device. If wireless charging technology improves, Apple could potentially get rid of wired charging all together, and rumors indicate Apple will release an iPhone without a Lightning port in 2021.
According to Apple analyst Ming-Chi Kuo, the highest-end iPhone model coming in 2021 will offer a "completely wireless experience." Charging would, presumably, be done all wirelessly through Qi-based wireless charging accessories.
Kuo also expects Apple to introduce an "iPhone SE 2 Plus" with a full-screen design, no Face ID, and a Touch ID fingerprint sensor built into the power button in 2021. This device is expected to feature a 5.5 or 6.1-inch LCD display and it will be positioned as a lower-cost iPhone.
Kuo believes this iPhone will feature an LCD display and a Touch ID fingerprint sensor built into the side button of the iPhone.
Qualcomm in February 2020 introduced the Snapdragon X60, its third-generation 5G modem, which is expected to be used in smartphones starting in early 2021. Apple could adopt the Snapdragon X60 for iPhones set to be released in the fall of 2021.
Barclays analysts also believe that starting in 2021, Apple will remove the Lightning connector from at least one iPhone model.
Two to three iPhones coming in 2021 are expected to have the sensor-shift stabilization predicted for the high-end 6.7-inch 2020 iPhone, and the 2022 iPhone could feature a periscope lens for much improved optical zoom capabilities.
As for the more outlandish, Apple is said to be developing an iPhone with a foldable display in partnership with LG Display, with panel production for an iPhone with a folding display set to kick off in 2020. Apple is also said to be working on touchless gesture controls and curved screens, technologies that could launch within three years.